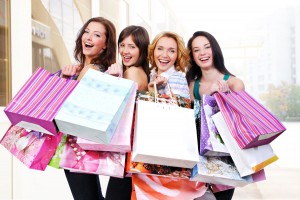 Spring is just around the corner. And the weather certainly shows it.
When spring comes, we get "spring fever," the desire to get outside and enjoy the warmer weather. Another thing we get is tired of our winter wardrobes, right? Spring weather means new fashions–shorts, skirts, cute shoes, flip flops and tank tops–all in fresh spring colors. Let's be honest, ladies. You wanna shop!
This Thursday is all about you. Head over to Edina for Ladies' Night Out, an evening of shopping and girl time in the quaint 50th & France shopping district. Catch specials and sales at dozens of stores in the area from 4 to 8pm. The posh yet charming 50th and France area is host to cool boutiques, fabulous eateries and relaxing salon/spas all on an adorable "main" street.
Check out the list of all the sales and specials. They're to be found at nearly every shop and restaurant in the area.
Read more about 50th & France at www.50thandfrance.com.
Like 50th & France on Facebook.
Follow 50th & France on Twitter.
50th & France
Edina, MN 55424