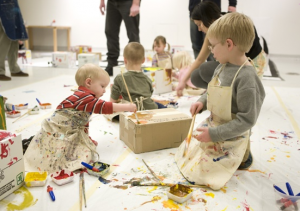 Where do the youngest little artists and hipsters hang out on a Tuesday? If you said the Walker Art Center, then give yourself a gold star.
Every 2nd and 4th Tuesday of the month, bring your kids out to Arty Pants: Your Tuesday Playdate at the Walker Art Center. Arty Pants features activities for adults and youngsters ages 3–5. Enjoy art projects, films, gallery activities, and story time.
In the months of March and April, stop in for Taking Shape. Tots will explore shapes through stories and activities, and special guest Brittany Shrimpton will lead dance workshops about shape. Kids will head to the galleries to craft their own geometric structures using straws and wax sticks.
There will also be a dance party led by Brittany in Gallery 8, which will teach kids about shapes through dance. Families will be twisting and turning their bodies into various shapes.
This Tuesday, March 22nd, join in the fun with Stacking Shapes, and come back April 12th for Directional Drawing. Arty Pants is free with gallery admission. Walker members and kids ages 12 and under are always free. Times are 11am to 1pm each day.
For more information, visit the Arty Pants: Your Tuesday Playdate page on the Walker's website.
Like Walker Art Center on Facebook.
Follow Walker Art Center on Twitter.
Walker Art Center
1750 Hennepin Ave.
Minneapolis, MN 55403
(612) 331-3889