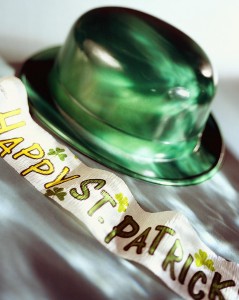 Not being much of a drinker, the thing I look forward to every March, besides tax refunds and warming weather, is the Shamrock Shakes at our favorite fast food joint with the giant arches. Lame? Perhaps.
If you're not a St. Patrick's Day Scrooge and like to participate in the festivities of the holiday, there's plenty going on in St. Paul this year.
Tap O' The Mornin' To Ya at Groveland Tap
For starters, Groveland Tap in St. Paul opens at 8am to provide breakfast and beer with Tap O' The Mornin' To Ya. Stop in for an Irish breakfast, and enjoy a pint before you go on your merry way. Groveland Tap is providing free shuttle service to the St. Patrick's Day Parade.
St. Patrick's Day Parade
St. Paul's St. Patrick's Day Parade will begin at noon at the corner of 4th Street and Sibley in downtown St. Paul. The parade will travel west on 4th to Rice Park (4th and Market). See bagpipers, heritage groups, families, business officials, and performers take over the streets of downtown and Lowertown St. Paul as 4th Street turns into a sea of green with music, dance and merriment.
Leprechaun Pub Crawl
Ok, officially signup is closed, but don't let that stop you from joining in the fun! The Leprechaun Pub Crawl is actually 3 separate crawls this year. You have the Downtown St. Paul crawl, the Upper West 7th crawl, and the Grand Avenue crawl. You won't have a t-shirt or the party favors, but join fellow crawlers in whatever area of the city you find yourself.
Other Hotspots
The Liffey
175 W. 7th Street, St. Paul
(651) 556-1420
theliffey.com
Stop in from noon to 4pm for specials on pints of Guiness and free St. Patty's day hats, then stick around for live Irish music after 4. Get your green on at The Liffey.
The Halftime Rec
1013 Front Avenue, St. Paul
(651) 488-8245
halftimerec.com
Made famous by the film Grumpy Old Men, The Halftime Rec boasts the oldest tradition of live Irish music in the Upper Midwest. Catch some of the best live Irish music in the Twin Cities.
This St. Patrick's Day, there's lots to see and do in St. Paul, starting with beer breakfast at Groveland Tap and moving on to downtown, West 7th, or Grand Avenue. Where will you be? Let us know in the comments.
Please make sure you eat something and drink responsibly.
Happy St. Patty's Day, Twin Cities!