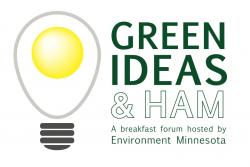 Do you have something to say about the public transit system and its environmental impact? Or do you want to join in a discussion about it? Even just sit in and listen?
There's no question that we all share the same earth. Development and progress often have a negative impact on our environment, but how do we achieve a good balance between progress and conservation?
Wednesday morning, March 15th at 8am, join in the discussion at Red Stag Supper Club, as these questions will be considered and discussed.
Green Ideas & Ham is a breakfast forum hosted & facilitated by Environment Minnesota. It happens on the third Tuesday of the month, and this time around, we'll be discussing public transit in Minnesota. Improving the transit system has many benefits to the community, but many of our leaders are moving to cut funding for transportation in 2012 and 2013.
Learn about the benefits of developing more balanced communities that encourage transit, walking and bicycling, leading to cleaner air and even healthier lifestyles. And then discuss the threats to investments that would get us there.
Cost for the event is $15 and includes house-made breakfast pastries, sausage or bacon, organic eggs with hashbrowns, or fruit and house-made granola and yogurt, as well as juice and coffee.
For more information, visit www.redstagsupperclub.com/events/green-ideas-ham-0, or call Red Stag Supper Club at (612) 767-7766.
Red Stag Supper Club
509 1st Avenue NE
Minneapolis, MN 55413
(612) 767-7766
www.redstagsupperclub.com