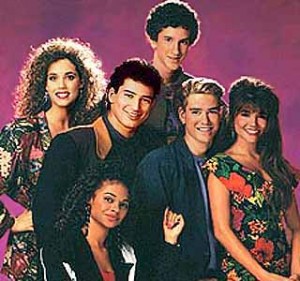 Remember the early 90's? Rolled up jeans, mall hair, high waistlines, geometric prints on shirts and dresses…and Saved By The Bell on TV?
Yup. Those were the days, huh?
Well, if you wanna recapture a bit of the early 90's, you can do so tomorrow night, as The Saved By The Bell Show, presented by Dana's Boys returns to the Bryant Lake Bowl Cabaret Theater after a sold out run.
See Zack, Kelly, Lisa, Jesse, Screech and Slater as they get into all kinds of mischief.
Join your favorite Bayside students for an evening of music, hijinks, and the danger of caffeine pills (ask Jesse about that). Learn what to do if you break an Elvis statue or meet a big movie star like Johnny Dakota. Two "episodes" of Saved By The Bell will be performed live with "commercials" and special appearances by Max, Mr. Belding, Kevin the Robot, and Hot Sundae. You can even catch an appearance by Patrick O'Brien, who was the original Mr. Dewey from the TV series.
Head over to Bryan Lake Bowl's Cabaret Theater for an evening of early 90's nostalgia performed live like you've never seen it before. Show times are 10pm on March 10th, March 11th, March 18th, and March 24th. Tickets can be ordered through the BLB Box Office at (612) 825-8949, or bought online for $12, or get 'em at the door for $15.
For more information, visit the show's page on the Bryant Lake Bowl website.
Like Bryant Lake Bowl on Facebook.
Follow Bryant Lake Bowl on Twitter.
Bryant Lake Bowl and Cabaret Theater
810 W. Lake St.
Minneapolis, MN 55408
(612) 825-3737
www.bryantlakebowl.com