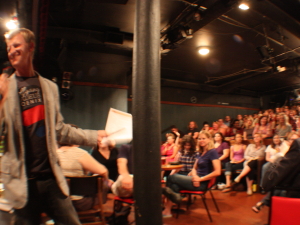 Have you ever wondered if books and beer would make good bedfellows? Well, wonder no more. You'll be able to find out tomorrow night at 7pm at Aster Cafe, or any 2nd or 4th Tuesday of the month.
Books & Bars ain't your mama's book club. The venues provide a unique atmosphere for a lively discussion of interesting authors, fun people, good food and drinks. Tomorrow night, Books & Bars is hosted by Aster Cafe, and Tuesday the 24th, catch the discussion at The Corner Bar in Winstead, MN, as P.J. Tracy's Monkeewrench will be discussed.
Moderated by Jeff Kamin, Books & Bars offers free meetings which have become an indispensable means for promoting reading within the community, giving new meaning to the term "literary buzz."
Join the mailing list to keep up to date on the latest books up for discussion. Tomorrow, Tuesday March 8th, Carter Beats The Devil by Glen David Gold is going to be discussed.
For more information and to keep up to date with the latest book discussion, visit booksandbars.com.
Books & Bars on Facebook.
Jeff Kamin on Twitter.
Aster Cafe
125 SE Main Street
Minneapolis, MN 55414
(612) 379-3138
www.aster-cafe.com
The Corner Bar
111 1st Street N.
Winsted, MN 55395
(320) 485-4288