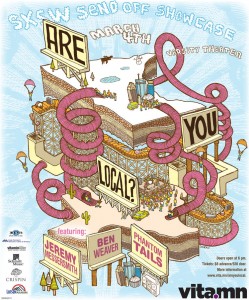 It's no secret that there's a wealth of local talent in the Twin Cities music scene. This year, a few local artists are looking forward to performing at South by Southwest (SXSW), the premier music festival in Austin Texas. And you know that everything in Texas is huge, right? This festival is no exception.
Tomorrow night, Friday, March 4th at the Varsity Theater in Dinkytown, Vita.mn brings you the Are You Local? SXSW Sendoff Showcase, featuring a sampling of the deep local talent pool of musicians. Catch celebrated local singer/songwriter Jeremy Messersmith performing with his quartet, and Ben Weaver. Also performing will be local rockers Phantom Tails, who were one of the standouts in First Avenue's Best New Band showcase.
There is also a triumvirate of competing newcomers in the Are You Local? best new band search: recent Chicago transplant Longshot, a rapper with a penchant for Sigur Rós samples, local indie pop heroes Pictures of Then, and hard-partyin' blues-stomp foursome the 4onthefloor. The winner of the contest gets a spot on the bill of our 2011 MN Music at SXSW show in Austin, Texas.
Digital download cards will be given away at the door (while supplies last) of the 13 Are You Local? bands showcased in Minneapolis and Austin. Chuck U. will be showcasing live art, Playatta will be snapping digital photos, and you can play free Speed Blingo with Ellie throughout the evening.
Doors open at 6pm and live music kicks of at 7. Tickets are $8 – $10 and can be purchased at Electric Fetus, Loring Pasta Bar or online at TicketFly.
For more info, check out the event page at Vita.MN.
Varsity Theater
1308 SE. 4th St.
Minneapolis, MN
612-604-0222
http://www.varsitytheater.org