Some Days are Better than Others (trailer) from matt mccormick on Vimeo.
Are you a fan of independent cinema? Some of the best and most original stuff I've seen recently are the indie films I've been catching on Netflix. Trylon Microcinema in Minneapolis's Longfellow neighborhood is showing classic cult favorites and new indie films pretty much daily.
Sound Unseen is a film series at Trylon Microcinema brought to you by 89.3 The Current that presents films by and about musicians. Screenings are the first Wednesday of each month and will run you $8 a ticket.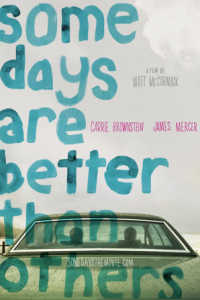 Doing the math, you'll find that tomorrow is the first Wednesday of March, meaning another screening is imminent. This month's treasure is the finally-released-in-the-U.S. Some Days Are Better Than Others, featuring Carrie Brownstein of grrrl band Sleater-Kinney and The Shins' front man James Mercer. The film is a poetic, character-driven story that asks why the good times seem slip away so quickly, while the trials and hard times stick around with such tenacity.

Some Days Are Better Than Others is a sad valentine to the forgotten ones in a throwaway society, and is about discovering when to hold on and when it's time to let go. The film premiered at South by Southwest Film Festival (SXSW) and was a hit at previous screenings.
Trylon Microcinema is an intimate venue with just 50 deluxe rocker seats and a 20-foot screen. Since space is so limited, jump on it if you want to see this. As far as we know, there are still seats available, but don't dawdle. Get your tickets now.
Stay tuned to soundunseen.com to stay abreast of future screenings.
TRYLON Microcinema
3258 Minnehaha Ave S
Minneapolis, MN 55406
(612) 424-5468
http://take-up.org/venue/1/