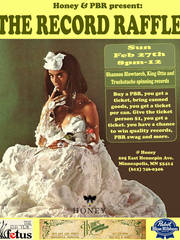 Are you a vinyl ethusiast? There are many, audiophiles included, that will defend to their death the superiority of vinyl over CD's. For me, it's a toss-up. There's good and bad in both. I enjoy the convenience and clarity of CD's, and the nostalgia and simplicity of vinyl. There is definitely something to be said for the warmth and purity of analog recordings vs. the crisp brightness of digital, but that's another argument.
This Sunday, February 27th at Honey Lounge in hip Northeast Minneapolis, join other vinyl aficionados in their Record Raffle. Electric Fetus and Hymie's Vintage Records team up to clear out some of their inventory by raffling them to fans of vinyl records.
Amass a stack of raffle tickets to increase the odds of scoring some cool vinyl. Earn tickets by purchasing PBR's (1 PBR = 1 ticket), handing over non-perishable food items, or just simply fork over $1 per ticket. Proceeds benefit local food shelves.
Also score some classics from Hymie's crated collection by donation, persuasion, or barter.
Providing the evening's soundtrack, DJs King Otto, Shannon Blowtorch, and Truckstache will be spinning from their own vinyl collections. If you need inspiration to figure out what you're after, maybe they can help.
This is a 21+ event, so leave the kiddies with a sitter and head over to the laid-back, trendy and casual Honey Lounge Sunday. Fun starts at 8pm and wraps at midnight. See what treasures you can pick up.
For more information, call Honey at (612) 746-0306. Also to find out more about the venue, visit www.honeympls.com.
"Like" Honey Lounge on Facebook to stay current on the haps.
Honey Lounge
205 E. Hennepin Ave.
Minneapolis, MN 55414
(612) 746-0306
http://www.honeympls.com