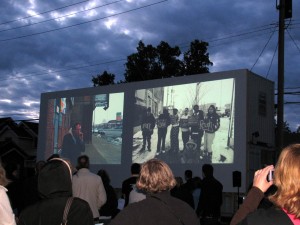 For a good chunk of 2010, 250 of Wing Young Huie's photographs of life on University Avenue hung in storefront windows along the busy street. There was also several murals and a nightly projection show on a huge screen set to a soundtrack of local musicians. We featured this project on Day 34: The University Avenue Project.
This weekend, on Sunday the 27th, you can catch The University Avenue Project Showcase, which invites guests to revisit the images and music from the Project. The event is part gallery reception, part art sale and part concert, and features ten musical performances and a silent auction on large prints previously installed along University Avenue.
Original prints will be for sale, and the artist, Wing Young Huie, will be in attendance.
The day will feature performances by local musicians and artists such as David Hanners, Heatherlyn, Erik Brandt, Ben Glaros, Michael Legan, Aaron Rice, Brian Laidlaw, Dusty Porch Sisters, Abdellah Ouchagar and Suzen Juel.
The Showcase is at Dancers Studio and begins at 1pm and is over at 6pm. Admission is free and open to the public.
For more information, visit www.theuniversityavenueproject.com or call (651) 290-0921.
Dancers Studio
1508 University Ave. W.
Saint Paul, MN 55104