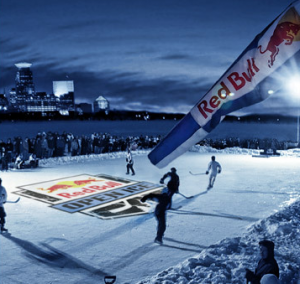 There's a whole lot going on in the next few days that's worthy of mention, so hold on to your socks. We're gonna post a bunch of stuff in the next few days, a departure from our "One post a day" rule. But who says rules can't be broken, right?
First up, get ready for some 4 on 4 pond hockey action, Twin Cities! Red Bull Open Ice hits the Twin Cities tomorrow, February 26th, all day long at the Oval in Roseville. The day is a culmination of the ultimate pond hockey showdown among teams from all over the world. There will be 32 total teams, 25 from the USA, 3 from Canada, 1 from Slovenia, 1 from Finland and 1 from Hungary.
The action starts at 1pm. Teams from around the globe will battle it out in tournament action, with the championship being played under the lights later in the evening.
The event is free, family-friendly, and open to the public. You're encouraged to bring your own seating. Canvas collapsible camping chairs are a great choice for their portability, comfort, and convenience.
For more information, visit the Red Bull Open Ice website.
The Oval
2661 Civic Center Drive
Roseville, Minnesota 55113
http://www.skatetheoval.com/