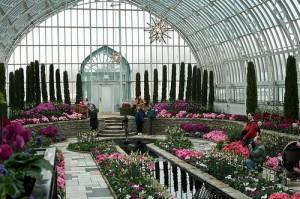 This time of year can be rough. Winter's dragging on and Spring thaw is still a month away and the world looks pretty dull and gray. Maybe a bit of color and some pleasant aroma is what you need.
Como Park Zoo and Conservatory and The Marjorie McNeely Horticulture Staff bring you the Winter Flower Show in Como Park's Sunken Gardens inside the Conservatory daily now through March 20th.
This season's selections include azaleas, cyclamen, cineraria, freesia, oriental lilies, and pansies. There will also be some very fragrant shrub camellias. Another new addition that brings a sculptural element to the show is the Veltheimia, also known as Forest Lily.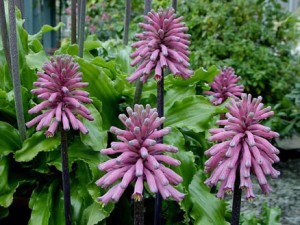 The Veltheimia, pictured right, is a plant that has long glossy leaves, up to a foot long, that range from bright to dark green. As you can see in the photo, they can produce a rosette of a dozen or more leaves that have wavy edges and the flowers that top the 1′ to 2′ stalks resemble the spike on a Red Hot Poker Plant.
The Conservatory hours are 10am to 4pm daily and admission is a suggested donation.
The color scheme of this year's show is a wash of pinks, reds and purples. What better way to offset winter's colorless palette of grays than to head to Como Park Conservatory and set your day ablaze with color?
More information about the show and Como Zoo and Conservatory can be found at www.comozooconservatory.org.
Marjorie McNeely Conservatory at Como Park
1225 Estabrook Dr.
St. Paul, MN
(651) 487-8200
www.comozooconservatory.org