Winter can get a bit long this time of year. Getting some exercise while helping out kids with Diabetes could be the cure your looking for. You have just such an opportunity this Saturday, February 26th at Mall of America, when the Juvenile Diabetes Foundation's Walk to Cure Diabetes comes to town.
The doors open at 7am. You can drop off donations, have some breakfast, and pick up your t-shirts, and watch pre-walk entertainment until 8. The walk begins at 8am, with no set path or distance. Walk for an hour, then enjoy the ceremony and post-walk entertainment from 9am on.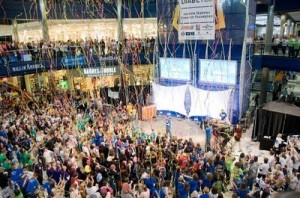 Register online and start raising pledges. The goal this year is to raise $2 million for Diabetes research, and you can be a big part in reaching that goal. There are a few incentives for fundraising that can get you some cool prizes.
Get to Mall of America Saturday morning and do your part to help fund Diabetes. Help find a cure.
For more information, visit www.jdrfwalktocurediabetes.org.
Mall of America
60 East Brodway
Bloomington, MN 55425
(952) 883-8800
www.mallofamerica.com