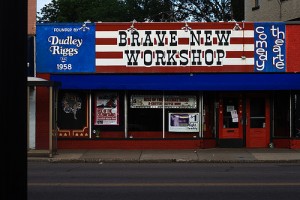 Here in the Twin Cities, we are fortunate to have an awesome school of improvisation, The Brave New Institute, and an improv comedy theater. The Brave New Workshop was founded by former circus performer Dudley Riggs in 1958 and is one of the premier improv theaters in the midwest.
Beginning this weekend, Sunday February 19th, The Brave New Workshop starts a new show for Sunday nights. Aptly titled The Sunday Sunday Sunday Show, it is a raucous and hilarious mashup of comedy improv and bar trivia, hosted by Mike Fotis and Bobby Gardner.
Here's how it works. You can show up alone and be put with a team, or you can form a team of up to six and bring the whole gang in. Audience teams will put their heads together in a collaboration of grey matter to answer trivia questions, meanwhile watching hysterical improv by graduates of the School of Improv, and prepare for a possible tie-breaker onstage.
Mike and Bobby will be your trivia hosts, firing out questions and adding snarky side commentary to the show.
Tickets are just $5 and can be purchased from the BNW Box Office at (612) 332-6620. It looks like you can't currently purchase tickets for this show on the website, but ask about it when you call or check back with the website from time to time. There are other shows with online tickets available for purchase, but right now, it doesn't look like The Sunday Sunday Sunday Show is one of them.
The show is 7 to 9pm every Sunday at Brave New Workshop.
Visit www.bravenewworkshop.org for more details.
Brave New Workshop
2605 Hennepin Ave. S.
Minneapolis, MN 55408
(612) 332-6620
http://www.bravenewworkshop.org