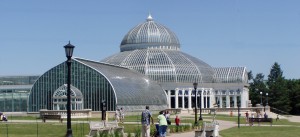 Not only is Como Park Zoo and Conservatory a cool place with lots to see, it's also free, or an optional donation of $2 for an adult, or $1 for a child. Either way, see a great zoo, and a conservatory with seven different indoor gardens and three outdoor gardens for nothing (or next to nothing if you wish to donate).
There is also a lot to do in the park. There are nearby athletic fields for soccer, baseball/softball, and hockey is available in the winter. Concessions and a gift shop are also on site, as well as art sculptures, a restored antique carousel built in 1914 that you can ride for $1.50, and a pavillion featuring a full-service restaurant, banquet and meeting rooms. The pavillion also hosts concerts, musicals and plays in the summer months.
Many of these amenities are available at modest cost to visitors, but of course it's always free to take a stroll around the lake or have a picnic in the park.
They also have seasonal events, including a Japanese Garden, Como Town, the Summer Flower Show, Sparky the Sea Lion Show, Bonsai Show, and Blooming Butterflies. For dates and info, visit Como Zoo & Conservatory's event page.
And don't miss the Grand Opening of Polar Bear Odessy June 3 through 6!
Como Park Zoo & Conservatory offers so much, you could make a whole day of it. And is so reasonably-priced that you won't break the bank if you do.
For more information: http://www.comozooconservatory.org/como_park/