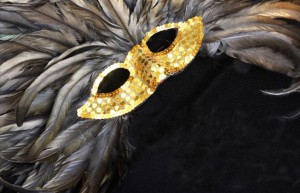 As if there isn't enough stuff going on this weekend, we're gonna throw one more at you.
The Twin Cities Mardi Gras Gala happens this Saturday, February 19th at Hotel Sofitel in Bloomington. The fun begins at 6pm with a VIP reception and a cocktail reception and silent auction. Appetizers and signature cocktails will be served while you mingle. All proceeds for the evening benefit the Child Neurology Foundation.
Dinner begins at 7:30 with a menu of French Creole food and wine, followed by a live auction and ceremony. Then at 9:30 the after party begins. The Afterglow Fashion Show features Project Runway designer Christopher Straub, live New Orleans jazz.
The emcee for the evening will be beloved hometown broadcast meteorologist Dave Dahl, a hard-working professional
who exhibits a style of warmth and modesty. Dave has been in our living rooms for 30 years. Hosting this year are Alanna & Mark Spotts. Alanna works for OptumHealth and is board President of the Young Professionals of the Twin Cities. Mark is a Senior Accounting and Financial Reporting Analyst at ShopNBC.
Online registration is available. Regular individual tickets are $150, but premium and group tickets are also available. There aren't as many options, but if you want to save money on your VIP ticket, purchase on our daily deal site at www.365deals.mn. Your $270 ticket is only $95 on this site, which saves you $175, or 65% off the regular VIP price.
More info is available at http://tcmardigras.com.
Hotel Sofitel Minneapolis
5601 West 78th Street
Bloomington, MN 55439
(952) 835-1900
http://www.sofitel.com/gb/hotel-0539-sofitel-minneapolis/index.shtml