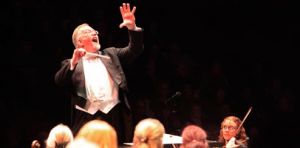 With Valentine's Day fast approaching, we bring you the 5th installment of our "Things to Do With Your Valentine" series happening all this week. Romance is in the air and there's tons of fun things to do with your sweetheart between now and February 14th.
This Sunday, February 13th at 2pm, The Dakota Valley Symphony brings you their 25th Silver Anniversary Concert at the Burnsville Performing Arts Center. For this special performance, they are bringing in world-renowned Italian pianist Roberto Plano for an exclusive performance of Rachmaninoff's Piano Concerto No. 2, a lush, familiar piece that has provided inspiration for ballads like Frank Sinatra's "I Think of You," and "Full Moon and Empty Arms," and has inspired many derivative works as varied as British rock band Muse, Aussie Pop-Opera group Amici Forever, Japanese a cappella vocal group The Gospellers, and even Eric Carmen's classic ballad "All By Myself" contains passages borrowed from this piece.
The conclusion of the concert will feature the famous and beloved Finale to Beethoven's Symphony no. 9, featuring the "Ode To Joy" theme with the Dakota Valley Symphony Chorus, the Gar Lockrem and Hymnus community choirs, and vocal soloists. This uplifting piece should provide a thrilling conclusion to the concert.
To make the event even more special, winners will be announced at the performance for the Wall of Wine Drawing. If you like wine, this is your chance to win a "wall" of 50 different bottles of wine. Two winners will be announced at the concert. It's $5 per entry and you can buy as many as you want, with proceeds supporting the Dakota Valley Symphony. Get your tickets online at the website. You don't need to be present to win, but you do need to be 21 or older and you will be asked to present a photo I.D. to claim your prize.
Get your tickets for this memorable concert experience at the website.
For more information visit dakotavalleysymphony.org.
Burnsville Performing Arts Center
12600 Nicollet Avenue
Burnsville, MN 55337
(952) 895-4680
www.burnsvillepac.com