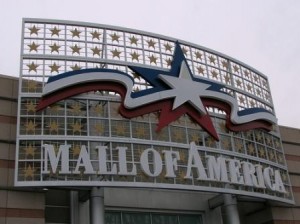 Romance can mean many different things to different people. With Valentine's Day coming up next Monday, we thought it might be a good idea to present lots of different options and ideas for the most romantic holiday of the year.
When you think Valentine's Day, most don't automatically think of Mall of America. But this Valentine's Day is a big day at the retail behemoth known as Mall of America. Rampant specials will be afoot as shoppers, including couples, walk the store in search of cool swag.
Of course there will be a number of specials happening throughout the mall. Special menus and features at restaurants such as Napa Valley Grille, Tucci Benucch, and Twin City Grille will be offered. Or take part in a three-course dinner for two for $90, or with a bottle of wine for $120, at Crave.
How about a free double-sided lip gloss with purchase of two other items at Origins, starting February 11th through the 14th, or 100 truffles of your choice for $30 plus free token heart tin at Lindt? Either would make a cool Valentine gift for your honey.
From February 11th through the 15th, Theatres at Mall of America is offering date night packages. The Producers Package for $25 includes two general admission tickets, two large sodas, and a large popcorn. The Directors Package is $30 and includes two VIP tickets, two beverages (house wine or domestic beer), and a large popcorn. Either package can be purchased at theatre guest service desk.
Maybe you'd like to take your sweetie on a few thrill rides at Nickelodeon Universe. There's plenty to do at Mall of America, so head over there this weekend or on the 14th and enjoy shopping for gifts for each other.
Happy Valentine's Day!
Read more: attractions.uptake.com/blog/valentines-day-mall-of-america
Mall of America
60 East Brodway
Bloomington, MN
(952) 883-8800
www.mallofamerica.com