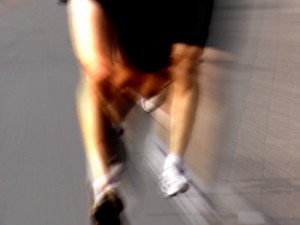 Are you single? Taken? Is it more complicated? Let others know while participating in the Valentine's Day Twin Cities 5K.
Each runner will be outfitted with a race t-shirt and a back tag announcing one of three statuses:
1. Single
2. Taken
3. It's Complicated
Just pin the tag to the back of your shirt on race day and avoid the awkwardness of attempting to do a "ring-check" while running or figuring out how to weave the fact that you're taken into your conversation with a persistent suitor.
The Valentine's Day 5K happens this Saturday February 12th at 10am. Runners can pick up their shirts and numbers starting at 8:30am at Lake Harriet Bandshell. Or if you're pre-registered, you can pick up your t-shirts and numbers at Marathon Sports, 2312 W 50th Street in Minneapolis.
Starting tomorrow, February 9th through the 11th, registration is IN-STORE ONLY. Register in person at Marathon Sports, $36 per person, no couples registration. You can also register at Marathon Sports on race day starting at 8:30am. Just make sure you're at the Bandshell and ready to run at 10. Every participant receives a pair of Valentine's Day TC 5K socks, a long-sleeve technical shirt, and a TCM winter hat!
Right around mile 3 of the run, there is a "water stop" with a twist: a station with valentines and candy. When the race is over, find the costumed cupid and he'll deliver the valentine to whatever single hottie you point out.
All race participants will be eligible to win cool swag, selected randomly. Just check your race packet for a prize ticket and bring it to the Twin Cities In Motion Tent on race day to claim your prize. Prizes will also be given away for the best Valentine's Day-themed costume, so festive dress is encouraged.
After the race, head over to Cooper Pub & Restaurant on the West End for $3.50 Finnegan's specials. Cooper is at 1607 Park Place Boulevard in St. Louis Park.
For more information, visit www.mtcmarathon.org/ValentinesDay.
RACE LOCATION
Lake Harriet Band Shell
4120 W Lake Harriet Pkwy
Minneapolis, MN 55410