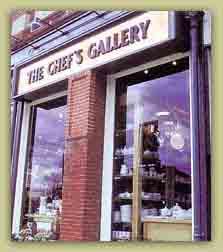 Looking for something a bit different for that Valentine's Day date with your sweetheart? There's nothing wrong with booking a reservation at Manny's Steakhouse or W.A. Frost for a romantic dinner. But what about thinking outside of the restaurant box for that special date? What about trying something different and fun that will make it a memorable night for both of you?
Check out That's Amore! at Chef's Gallery in Stillwater on February 14. They've designed a private dinner to celebrate the most romantic holiday of the year. Chef John Occhiato has created a menu full of tasty courses for you and your honey to dine on which includes Beet Salad with Orange, Chevre, and Pumpkinseed Vinaigrette, then a rich pasta course of Spaghetti alla Chittara (bay scallops and aglio olio), Pan-roasted Arctic Char with Spinach, Bacon, and Oyster Mushrooms, and the classic Coeur à la Crème drizzled with local honey and raspberry syrup for the finale. Wine will also be paired with the menu.
The cost is $75 per couple, and reservations are between 6 and 9pm on Monday, February 14th–Valentine's Day.
To inquire about the gallery or reservations for That's Amore, call (651) 351-1144 or visit www.thechefsgallery.com.
The Chef's Gallery
324 S. Main St.
Stillwater, MN 55082
(651) 351-1144
http://www.thechefsgallery.com