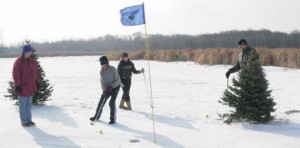 There's a quiet little suburb in the north metro that throws a serious winter party, much of which is outdoors. Of course I'm talking about Ham Lake. Next Saturday, February 12th, the unassuming burgh is having its 5th Annual Ham Lake Snow Bowl in Ham Lake City Park from 9am to 3pm.
This winter shindig is strategically held a few days after the end of the huge St. Paul Winter Carnival, so that the St. Paul festival wouldn't steal its thunder. This a serious fiesta and worth a look.
There's lots of activities for the whole family at Ham Lake Snow Bowl. Check out the Hospitality Tent which also houses a business expo showcasing local shops and shopkeepers. That might be a smart first stop on your visit, so you can get acclimated and obtain information about the rest of the day.
You can also take part in a Medallion Hunt (Clues), a free snow golf tournament sponsored by Majestic Oaks Golf Club, an ice fishing contest, helicopter rides, dogsled rides, Vintage Snowmobile Expo, a broomball tournament, snow sculpture contest, and Skijor and dog sled races.
There's free kids' games on hand to keep the little ones occupied as well.
After a day frolicking in the snow, head over to Majestic Oaks Golf Club for Snowball 2011. This 2nd annual event kicks off with an optional dinner starting at 6pm for $70 a couple, which includes dinner, dance lessons and ticket to the dance. Or if you just came to bust a move, it's $12 per person or $20 per couple.
Free Swing Dance lessons by Bill and Shannon get things cooking from 7pm-8pm. Then at 8, The Jam Band takes the stage to provide live music for you to swing and jive to. A Cash bar and appetizers will be available.
Ham Lake Snow Bowl's epicenter is Ham Lake City Park, just east of Highway 65 on 153rd Avenue NE in Ham Lake. A few activities take place in other parts of town such as Majestic Oaks Golf Club, but the majority of everything happens at the park.
For more information, visit www.hamlakecc.org/snowbowl.
Ham Lake City Park
1843 153rd Avenue NE
Ham Lake, MN 55304
(763) 434-9555
http://www.hamlakecc.org