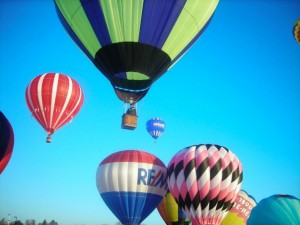 Sorry for the late notice today, kids. But we just "caught wind" of this one late last night. The good news is this event is going on all weekend, not just today.
You certainly don't have to be a kid to appreciate the huge and colorful hot air balloons that will be dotting the landscape (and eventually, the sky) in Hudson, WI this weekend. But you also don't have to be a fan of hot air balloons to enjoy the weekend's festivities. This is a full blown party with tons of stuff to do for you and the whole family.
Besides watching the balloons prepare and launch, there will be plenty of other activities to keep you busy. There will also be events such as an evening parade, geocaching, shopping, smooshboarding, arts and crafts, hot air balloon moon glow and great food in addition to the hot air balloon launches.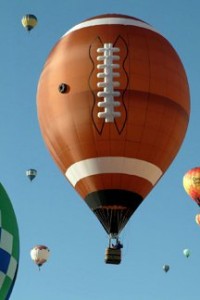 Since the Hudson Hot Air Affair falls on Super Bowl weekend this year, the theme is "When Pigskins Fly." Check the schedule for all the football related and non-football related fun happening. You may see some football-themed balloons at the launch as well.
Tonight at 7:05pm check out the Torchlight "When Pigskins Fly" Parade. There will be prizes for Best Overall Parade Unit, Best Unit by Hot Air Balloonists, the best "When Pigskins Fly" themed Unit, and the best kazoo marching band. The parade will begin in Wells Fargo Bank parking lot at 2nd Street and Locust Street near Phipps Center for the Arts and head down 2nd Street. Enjoy a fireworks display immediately after the parade over Lakefront Park and the St. Croix River sponsored by Andersen Corporation. This will be grand finale to downtown festivities.
However, you can get your rock star on karaoke at Plaza Lounge, Plaza 94 at 9pm, and groove your body at the dance at Dick's Bar & Grill at 10, at Walnut Street and 2nd Street.
Saturday morning the balloons launch at 7:30, nearly 40 hot air balloons, including special shapes, in competitive flight. They will take off from E.P. Rock school grounds (13th and Summer, on the Hill). Concessions and souvenirs will be available.
Throughout the day, don't miss the pancake breakfast, marketplace and craft fair, geocaching, Up, Up and Away 5K Fun Run, also on the school grounds (registration is at 9am), Minnesota Kite Society demos, Smooshboard competition, crafts for kids, another balloon launch at 3pm, silent auction and lots more.
Then Sunday, another launch at 7:30am, more geocaching, a chili cookoff and a tailgate party at 2pm before the weekend wraps up. You'll be home in time for whatever plans you have for the Super Bowl.
For more information about this huge event, "like" their Facebook page at www.facebook.com/pages/Hudson-Hot-Air-Affair/275039985902 or visit www.hudsonhotairaffair.com.
Hudson Hot Air Affair, Inc.
P.O. Box 744
Hudson, WI 54016
(888) 247-2332
(715) 381-2050
EP Rock School
340 13th St. S
Hudson, WI 54016
http://www.hudsonhotairaffair.com/