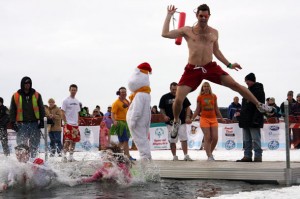 I often hear my friends from warmer climates say things like, "You must be crazy to live in Minnesota. It's so cold there!"
My friends are half right. It is cold here. At least during winter. But as far as crazy? Well, I do live here, but I'm not crazy. The folks who jump into an icy lake in the dead of winter, on the other hand? That's up for debate.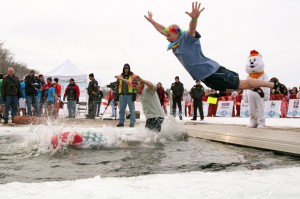 Crazy or not, a whole gaggle of "plungers" are doing just that to help raise money for Special Olympics Minnesota. There are a number of plunge sites at lakes throughout Minnesota, but coming up this weekend, you can take the plunge at Weaver Lake in Maple Grove. This coming Saturday, February 5th at 1pm, the plunge will take place. You still have time to sign up and raise pledges. Plungers will be required to sign up for Plunge time slots at pre-registration and day of registration. Slots will be available on a first-come first-served basis.
For the Maple Grove plunge, there are two pre-registration events (see below), and registration the day of the plunge, from 10am to 1pm at Weaver Lake (address below). There is also an afterparty at The Lookout Bar & Grill.
Pre-Registration
Thursday, Febuary 3, 2011
5:00 – 8:00 pm
J. Cousineaus
13540 Grove Dr
Maple Grove, MN 55311
map and directions
Friday, Febuary 4, 2011
5:00 – 8:00 pm
Lookout Bar and Grill
8672 Pineview Lane N
Maple Grove, MN 55369
map and directions
After Plunge Party
Lookout Bar and Grill
Opening at 9 am with breakfast
Live music:
Junk FM from 12 – 4:30 pm
Suzi and the Studs from 9 – close
After Plunge awards at 2:30 pm
For information on other Minnesota plunges, visit www.plungemn.org.
Polar Bear Plunge Location
Saturday, February 5
Weaver Lake
8401 Dunkirk Lane N
Maple Grove, MN 55311
map and directions