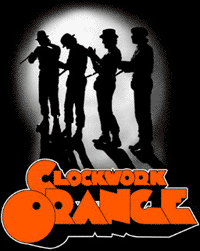 We've been catching wind of some theater screenings of classic movies lately. We featured The Exorcist before Halloween on Day 197, and Pink Floyd's The Wall on Day 211.
Then we found out about this classic. On Friday, January 28th at midnight, Willow Creek 12 Theaters in Plymouth is showing a screening of Stanley Kubrick's 1971 masterpiece, A Clockwork Orange. The film will be presented on stunning 35mm film in all it's early 70's bizarre glory.
The Retros at Willow Creek 12 is a series that shows screenings of gems past. If you enjoy classic films such as those mentioned, you should "like" them on their Facebook page to keep up to date.
This Friday, don't miss A Clockwork Orange, with a special introduction by Star Tribune film critic Colin Covert. Ticket price is $6.50 and there are additional showings, sans the intro by Covert, Thursday at 9:30pm, and Saturday at 10:30am and midnight.
Next up in the Retros series: Groundhog's Day starting Thursday February 3rd through Saturday the 5th, same showtimes as A Clockwork Orange.
For more info on Willow Creek 12's Retros Series, "like" their Facebook Page and see the flyer below.
Willow Creek 12
9900 Shelard Parkway
Minneapolis, MN 55441
(763) 591-5921
http://www.mullerfamilytheatres.com/