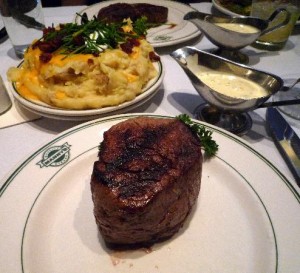 Sometimes I crave a big juicy steak. If it's done right, steak can be one of the most satisfying meals. It can also be one of he most magnificent and over-the-top meals as well. And paired with the perfect wine–well that's just the crowning jewel.
Last week we featured Murray's Classic Steakhouse and offered a daily deal to go with it. Today, it's Manny's. Manny's Steakhouse in the Foshay Tower in Downtown Minneapolis provides the over-the-top steakhouse experience. With ginormous portions, bare wood floors, jade marble and a huge mural of a bull gracing the foyer, Manny's provides a decidedly masculine experience as well. And, while it doesn't sound fancy, its opulence is in its simplicity.
The waiter strolls to your table with the meat cart and shows you raw cuts of the day's selection. Generally, the selection includes live Maine Lobster. And yes, it's alive when they bring it to your table. "Kill it before it kills you," it says on their website.
Also on the meat cart, the popular 14 ounce Filet Mignon, center cut and dry aged for two weeks, is so tender, your steak knife becomes just a prop. The Filet also comes in a 10 ounce size. Other popular cuts include a cut called The Bludgeon of Beef, which is a 40 ounce Bone-in Ribeye, a 20 ounce New York Strip, a 48 ounce Double Porterhouse, a 24 ounce Bone-in Ribeye, and The Porterhouse, which is a 24 ounce bone-in filet and NY strip.
Seafood options are plenty. There's the aforementioned Maine Lobster, of course. But also choose grilled salmon, tuna steaks, or shrimp. There is also chicken and veal options on the menu if steak just isn't your thing.
Also, don't miss the a la carte sides, like the super-sized asparagus spears, the velvety sauteed mushrooms, hash browns with onions, and the creamed garlic spinach.
Manny's Steakhouse was listed as one of the top 5 steakhouses in the country according to the Zagat Guide, and Wine Spectator has bestowed on it its "Award of Excellence."
Manny's opens at 6:30am daily for breakfast, lunch starts at 11am and the dinner begins at 4pm. It is located at the W Minneapolis, in the Foshay Tower, downtown.
For more information, visit http://www.mannyssteakhouse.com/
Manny's Steakhouse
821 Marquette Avenue South
Minneapolis, MN 55402
http://www.mannyssteakhouse.com/
(612) 215-3700