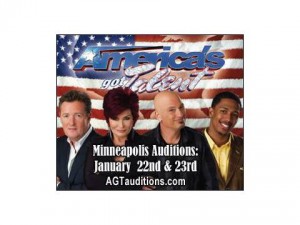 When I was younger, I knew a kid who could turn his eyelids inside out. And how many of us know someone who can do celebrity impressions with surprising accuracy?
Do you fancy yourself a singer? Actor? Dancer? Comedian? Have some other unusual talent? There's still time to register for the America's Got Talent Auditions to be held this weekend, Saturday January 22nd and Sunday the 23rd.
What can YOU do in 90 seconds??? Any talent, any age goes. Show off anything and everything. Perform your talent for host Nick Cannon, and judges Piers Morgan, Sharon Osbourne, and Howie Mandel, in front of a live audience.
Speaking of a live audience, if you don't have an act ready by this weekend, you can also be part of the audience. Free tickets are available.
To get your shot at fame and a $1 Million grand prize, fill out the registration form.
For info on free ticket to the auditions, call the Minneapolis Convention Center at (612) 335-6000.
Need any other information? Visit http://americasgottalentauditions.com/new/minneapolis.
Minneapolis Convention Center
1301 2nd Ave S
Minneapolis, Minnesota 55403
(612) 335-6000
http://americasgottalentauditions.com/new/minneapolis