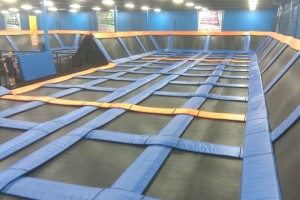 I know this is gonna sound like a Wham-O commercial, but here goes…*ahem*
There's a new training and fitness sensation that's sweeping the nation. (That's the part that sounds like a commercial) But it's not what you think. It's not a Skip-Bo or a Frisbee or the latest plastic toy from Wham-O that will keep kids and adults active. It's the indoor trampoline park.
Sky Zone Minneapolis, actually in Plymouth, is a new indoor playground that works like a bouncy castle minus the inflatable latex. Sounds like fun for the kids, right? It is. But it has also become a cross-training venue for serious athletes, even professionals.
The floor and walls, made entirely of trampolines, provide a not-always-graceful, yet rigorous workout that is low impact and high energy. Who wouldn't want that in a workout?
Because you're walking, running and exercising on a bouncy surface instead of a hard, stationary surface, more different muscle groups get worked, and your core muscles are engaged for longer periods of time. It combines the best of aerobic workouts and resistance training. It blasts those calories off, tones muscles, and increases cardiovascular endurance.
And besides all that, it's super fun.
In addition to cross-training, you can play Dodgeball at Sky Zone, take SkyRobics classes and SkyRobics for kids, book birthday parties and corporate events, school programs, send your kids to SkyCamp, and for there's even SkyMania, a program for Tweens (11-15) and Sky Jam for older teens and young adults (16+). SkyMania (Friday nights, 9 to 11pm) and Sky Jam (Saturday nights) provide 90 minutes of jump time, pizza, bottled water, cool music and social time for youth from 10pm to midnight. Cost is $15.
Besides all the programs and activities, there's also time for Open Jump. Walk-ins are welcome during all open hours, subject to availability.
HOURS
Monday: Closed
Tuesday – Thursday: 3:00 pm – 8:00 pm
Friday: 12:00 pm – 9:00 pm, SkyMania 9:00 pm – 11:00 pm ages 11-15
Saturday: 10:00 am – 10:00 pm, SkyJam 10:00 pm – 12:00 am, ages 16
Sunday: 11:00 am – 7:00 pm
SkyRobics
Monday and Wednesday: 10:00am – 11:00am
Tuesday and Thursday: 6:00pm – 7:00pm
Toddler Time
Tuesday and Friday: 9:30am – 11:30am
For more information, visit minneapolis.skyzonesports.com.
Sky Zone
13310 Industrial Park Blvd
Suite 160
Plymouth, MN 55441
http://minneapolis.skyzonesports.com/
(763) 331-3511