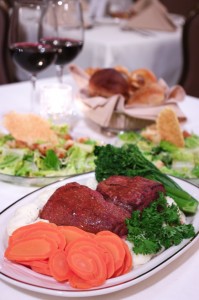 In every city, there is one great restaurant that reflects its history and character. For Minneapolis, that would have to be Murray's Steakhouse. Since it opened in 1946, Murray's has gained its reputation as a restaurant offering fine choices in every area, but it's the focus on beef that earned it the most accolades.
Try one of the appetizers such as Hickory Smoked Shrimp or the Steak Tartar, or maybe the Halibut Cheeks or Tuna Tartar. Perhaps you'd like something with a local flavor? Check out the Walleye and Wild Rice Spring Rolls.
If you want to keep it a bit on the lighter side, there are many salads available, such as the Gorgonzola Pear Salad or the Crab and Mango Salad, but it's the specialties of the house and the entrées that really shine.
The specialties of the house include the Silver Butter Knife Steak for Two, a 28 ounce strip sirloin. There is also the Chateaubriand for Two, a 24 ounce beef tenderloin, or if you have an extra person, try the Silver Butter Knife Steak for Three, a 42 ounce strip sirloin. All three are carved tableside.
Entrées include the Herb Grilled Chicken, Broiled Walleye, Rack of Lamb, and a delicious Cedar Plank Salmon, but again, it's the beef choices that are the real crowd pleasers. Try the 20 ounce Ribeye steak, or the Filet of Beef, a 10 ounce center cut aged tenderloin. If you prefer a strip, you have your choice of two. Both are 14 ounce center cuts, one is unadorned and the other is finished with a dijon brandy peppercorn crust. Or how about the juicy Porterhouse steak? Its 28 ounces of magical flavor include a bone-in sirloin and tenderloin.
Don't miss the a la carte sides. Choose from a variety of tasty options including the Creamed Spinach, the silky, savory Sautéed Mushrooms, and Asparagus spears.
Murray's is open Monday – Friday, 11am – 2:30pm and 4:30pm – 10pm, and Saturday & Sunday, 5 – 10pm. It is located in the heart of Downtown Minneapolis at 26 South 6th Street.
For more information, visit http://www.murraysrestaurant.com/.
Murray's
26 South 6th Street
Minneapolis, MN 55402-1501
(612) 339-0909
www.murraysrestaurant.com
This weekend enjoy a $75 value certificate to Murray's Classic Steakhouse for just $37 at http://365deals.mn/cities/minneapolis-stpaul/