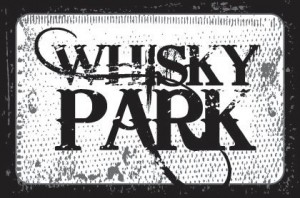 If you were planning on attending the New Year's Eve Shanghai Party, you'll remember that the original venue was oversold and a bunch of people had their plans changed so fast it made their vision blurry. Irritating, right? Unfortunately, folks who paid $45 to $95 per ticket have been scrambling for refunds ever since.
The folks at Whisky Park heard of the plight of all those who got the shaft and have now concocted a big NYE do-over party this Friday January 14th. There won't be fire-breathing dancers, unfortunately, but if you furnish proof that you purchased a ticket for the Shanghai bash on NYE, you'll drink free from 6 to 10pm, and get a free champagne toast at midnight.
Sadly, the grandeur and spectacle planned for the original event was lost in the venue change, which was hardly worth the cash many shelled out for a fun evening. The geishas, games and acrobats won't be there, but Whisky Park is providing a free event with free drinks to ease the sting of getting Shanghaied out of your NYE party.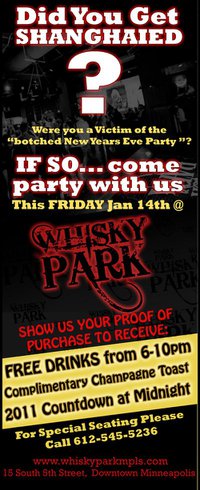 See poster to the right for information.
WHISKY PARK
15 S. 5th St., Minneapolis
(612) 545-5235
http://www.whiskyparkmpls.com/
RSVP on Facebook