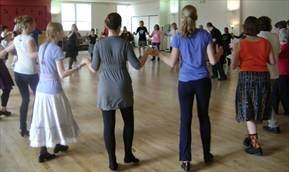 In the winter time, it's nice to have something to do that gets your blood moving. Being a blogger and spending a great deal of my time on the internet, I know firsthand the value of physical activity, as my work requires me to sit still for long periods of time in front of a computer screen.
Break out of the sedentary lifestyle and into some movement at the Tapestry Folkdance Center. You can get the heart pumping with swing dancing on Thursday nights from 6:30 to 8:30pm. The first hour is spent going over swing basics, then more advanced moves the second hour. Cost is $7 if you're a member or student and $9 if you're not.
Another program that provides a decent workout is Cajun Dance, which happens each 3rd Friday of the month. There is an hour of instruction starting at 7:30pm, then dancing from 8:30 to 11:30pm. The new program has live music, so you can strut your stuff on the dance floor and show what you've learned.
Other programs include Contra, English Country Dance, International Folk, and Nordic, as well as other special events as they arise.
Tapestry Folkdance Center provides various opportunities to get involved. Membership is a great way to do so by supporting financially and getting discounts on admission for classes and events.
You can also get involved through sponsorship and advertising, as well as volunteering, through donations, mailing lists to stay abreast of current news, and also through the Tapestry Ambassadors program.
Tapestry Folkdance Center has two dance spaces. One is a smaller dance space of about 1400 square feet, and the second is a large dance hall, about 4,000 square feet. Both are available for rent for private events.
Don't forget to check the calendar for upcoming classes and events.
For more information, visit www.tapestryfolkdance.org.
3748 Minnehaha Ave
Minneapolis, MN 55406
http://www.tapestryfolkdance.org/
Phone: 612-722-2914
staff@tapestryfolkdance.org