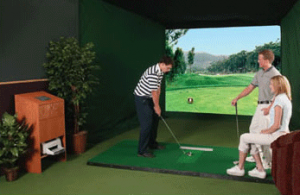 Golfing is a popular sport in Minnesota, despite the fact that we have relatively little golfing weather throughout the year compared to most of the country. Right now, it doesn't take a rocket scientist to look out the window and see this ain't exactly prime weather to hit the greens. Right?
Unless, of course, you head to A Lot of Green Golf in Burnsville. A Lot of Greens Golf is a one-stop indoor golfing mecca for the antsy Twin Citian who just can't wait til spring to hit the greens.
You've got your golf simulator, pictured above. You can tee up, swing and watch the ball fly, virtually speaking. The sim is very responsive and according to your swing, shows slices, hooks, draws, fades and straight shots with surprising realism.
Here's how it works. You can bring your own clubs, and drive, chip, or putt into a screen. The ball then reacts, based on your swing. And speaking of that, you even review your shot with the handy swing analyzer.
If the swing needs a little work, head over to A Lot of Green's driving range, grab a bucket of golf balls and swing away. You can even get a driving range membership if you want to make a regular thing of it.
Pro golf instructors are also on hand to help you improve your game and you can join one of the leagues offered as well.
A Lot of Green is open from 9am to 10pm daily, or reservations can be made for other hours. Groups, bachelor parties, corporate functions and other such events can be worked out as well.
For more information, visit www.alotofgreengolf.com.
For up to 60% off on your next trip to the golf simulator, check out our daily deal at 365deals.mn.