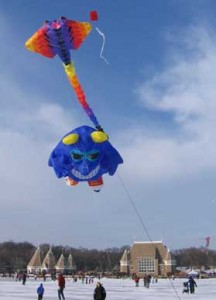 This is the time of year I usually get antsy for spring to arrive. I like a white Christmas, sure. But after the new year, the winter seems to drag on and on. I look forward to all the cool things you can do outdoors with the arrival of spring.
An activity usually associated with spring is flying a kite. But today, January 8th, Lake Harriet plays host to the 10th annual Winter Kite Festival. To me, it seems strange to fly a kite in winter, but a whole bunch of people will be there this afternoon who believe otherwise.
If kite flying isn't your thing, there's lots of other cool activities going on as well. Other fun family activities at the festival include ice fishing, horse-drawn wagon rides, snowshoeing, a kid's medallion hunt and a marshmallow roast. And whatever you do, you can always watch the unique and colorful kites flying above the frozen lake.
The festival will take place from noon to 4pm on the north end of Lake Harriet near the Bandshell, located at 4135 W. Lake Harriet Parkway; admission is free. In case of extreme weather or poor ice conditions, the event will be re-scheduled for January 15th.
More information is available at www.minneapolisparks.org/default.asp?PageID=760, or at the Winter Kite Festival Hotline, (612) 370-4948.