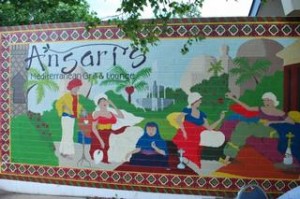 It's sometimes hard to find a restaurant in the suburbs that people rave about. Especially one with a cool and interesting niche.
Ansari's Mediterranean Grill & Lounge in Eagan is a suburban dining experience second to very few, particularly in that area. Ansari's boasts tasty cuisine from the region surrounding the world's largest inland sea. On the menu, you'll find kabobs, gyros, rack of lamb, hummus, falafel, Tabouli, Kibbeh, and lots more to tickle your tastebuds.
Besides top-shelf Mediterranean fare, Ansari's offers entertainment options as well. Check out belly dancing on Thursday, Friday and Saturday nights, followed by a live DJ. Karaoke is a draw on some nights. This Sunday, January 9th at 4pm, enjoy all-you-can-eat Snow Crab Legs. Occasional wine tastings, Bingo, Ladies Nights and other cool stuff also happens periodically. Check the calendar for all the latest and greatest in entertainment.
You can also chill out in the Hookah Lounge while enjoying some flavored tobacco.
Ansari's Mediterranean Grill & Lounge is located at 1960 Rahncliff Court in Eagan. Check the map if you need further help.
For reservations or more information, go online to www.ansarisgrill.com, or call (651) 452-0999.