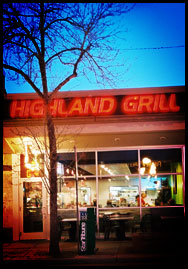 I love living in the Highland Park neighborhood in St. Paul. Within blocks of where I live, you can find a grocery store, a handful of coffee shops, Chipotle, Noodles & Co., Jimmy John's, LeeAnn Chin, Barnes & Noble, Blockbuster Video, DQ Grill n' Chill, a couple of buffets, a few locally owned bar-and-grill type places, and a retail outlet for each of the major cell phone carriers.
But one of the bright spots in this already-cool neighborhood is the Highland Grill, a restaurant with a contemporary upscale diner feel. Their chef-prepared meals are always fresh and interesting, and you can get wine or beer with the meal as well as Bloody Marys or Mimosas.
The beer and wine selection is relatively small, but the focus is on quality rather than quantity. On tap, you'll find Summit EPA, Guiness, Fat Tire, Goose Island, a rotating select tap beer from Summit Brewery and a featured tap beer. The wine list, again, is fairly small, but has a pleasant variety of red wines from Spain, California, Sicily, France, Argentina, Carneros, Australia, Oregon, and others. White wines include selections from New Zealand, Germany, France, Sonoma, Russian River Valley, Anderson Valley, and Mendocino County. And you won't find Yellow Tail or Vendage wineries represented here. It's a thoughtful and balanced selection carefully tailored to the food menu.
Speaking of food, for starters, you'll find things like Pierogies, Gorgonzola Fritters, Sweet Potato Fries, and Vegetarian Chili. Sandwiches and burgers are plenty and include a Grilled Salmon Sandwich, a Yellow Fin Tuna Melt, a good selection of beef burgers, a Turkey Burger, Veggie Burger, and even a Bison Burger.
You can enjoy entrées such as Vegetarian Chili Mac, Steak & Pierogies, Squash & Mushroom Risotto, to classics like Meatloaf and Fish 'n' Chips.
Don't miss out on the sides, salads and extensive breakfast menu as well.
Highland Grill is located at 771 Cleveland Avenue S. in St. Paul, just off the corner of Cleveland and Ford Parkway. Hours are Sunday – Thursday 7am to 9pm, and Friday and Saturday 7am to 10pm.
Oh, and don't forget to check out Dinner and a Movie. Have dinner at the Highland Grill, then head across the street to the old Main-street style Highland Cinema for a show. There are two screens and each has various showtimes. If you make an early show–before 6–it's cheaper, too. You pay only $6.25 for a pre-6pm showing. How cool is that?
Head on over to the Highland Grill for some unique and tasty food and quality beer and wine today!
For more information, visit www.highlandgrill.com.