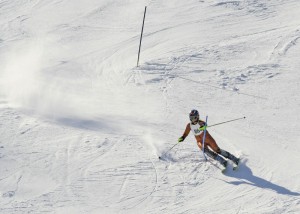 Winter in Minnesota can be long and cruel, but the more adventurous among us find ways to beat the winter blues by staying active, whether it's with outdoor or indoor fun. If you want to see people making the best of the winter weather outdoors, just head to the nearest ski slope and see others maximizing the "winter experience."
Welch Village Ski Area is just a hop, skip, and a jump south of the metro area, south of Hastings and and just west of Red Wing (see the map and directions for details). Its slopes span 60 trails and about 140 acres of skiable terrain. The runs are begging to be skied, currently with a 48 to 60″ base and a groomed surface, so grab your skis or your board and cruise down there to take full advantage.
Welch Village offers lessons for all ages and skill levels, even for kids under 10. A number of competition programs and leagues are also available for the avid skier.
If you want to make a weekend trip of it, lodging is available in trailside bunkhouses as well as local hotels in Canon Falls and other nearby cities.
Get your lift tickets online right now, and check daily ticket info and hours to schedule your getaway. And don't forget you can rent skis and boards at Welch Village too!
Head to Welch Village Ski area today, strap on some skis or a board and get stoked to shred some gnarly pow, brah!
For more information, visit www.welchvillage.com.