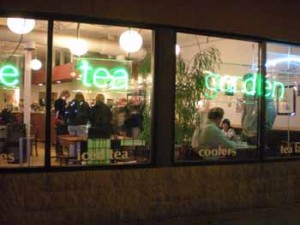 Coffee shops get all the attention. Sure they have hot, fresh-brewed, and often fresh ground, coffee, iced coffees, blended drinks and all kind of goodies. But the tea bar is gaining notoriety nationwide, and The Tea Garden, with its five metro locations, is leading the charge to popularize these tea-centric shops.
The Tea Garden brought the tea bar concept to the Twin Cities in 2002. Its first location was in Uptown Minneapolis and soon opened a new location on Grand Avenue in St. Paul, introducing a variety of different teas to the area–among them the bubble tea.
Bubble tea comes from Taiwan and combines freshly brewed teas with a large variety of exotic natural fruit concentrates, shaken or blended, served cold with chewy tapioca pearls at the bottom. The Tea Garden also serves up coolers, shakes, chais, fruit teas, and tea lattes–-all of which become bubble teas when bubbles are added (bubbles are optional). Bubbles also come in a variety of flavored jellies.
Of course you can also choose from dozens of varieties of loose leaf teas, from traditional black teas, green teas, oolongs, white teas, rooibos (ROY-boss, or red tea), and many different herbal tea blends.
A great place to shop for loose leaf teas, The Tea Garden also carries tea accessories and sells loose leaf teas in bulk.
But the coolest thing is you can stroll in, pull up a seat at the bar, chat with the other folks, read the paper, or open your laptop and surf the internet on their free wifi, all while enjoying the hot or chilled beverage of your choice.
The Tea Garden has locations in Uptown Minneapolis, St. Paul's Grand Avenue, Mall of America, the University of Minnesota, and downtown St. Paul. See locations for hours of operation, address and contact information.
For more information, visit www.teagardeninc.com.