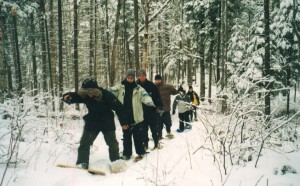 It's winter. The temptation is to stay inside where it's warm and cozy, sip hot chocolate and watch movies.
There's nothing wrong with hot cocoa and your latest favorite DVD, but getting some exercise and fresh air can help you keep off those pounds that seem to magically accumulate during the winter months. And after all the Holiday treats we've likely indulged in, now is a perfect time to think about staying active this winter.
There are some choices for the Twin Cities to get out and enjoy some snowshoeing this winter. Lebanon Hills Regional Park, located in Apple Valley and Eagan is the largest park in Dakota County and has 13.9 miles of nature trails for hiking and snowshoeing. They also offer ski, sled and snowshoe rental. Call the Visitor Center at (952) 891-7000 for more information.
The Three Rivers Park District has a total of 11 parks and over 38 miles of snowshoeing trails to choose from metro-wide. Snowshoes can be rented at any of the parks for only $5. The trails offer varying degrees of difficulty to suit the newbie as well as the seasoned pro. Parks in this network include Carver Park Reserve in Victoria, (763) 694-7650, Elm Creek Park Reserve in Maple Grove, (763) 694-7894, Baker Park Reserve in Maple Plain, (763) 694-7860, Richardson Nature Center in Bloomington, (763) 694-7676, Murphy-Hanrehan Park Reserve in Savage, (763) 694-7777, and others. Check the full list of parks in Three Rivers Park District offering snowshoeing.
Snowshoeing is fun for the whole family and many parks rent snowshoes to young kids as well as adults, so call ahead to see if a park near you has snowshoes for your little one.
Get out and enjoy some winter activity, Twin Cities!