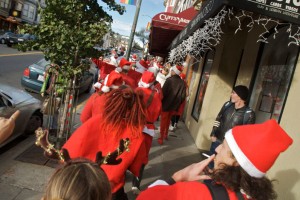 Ah, the pub crawl! It has become quite an art form. Or at least an act of solidarity built around two main purposes: the pursuit of malty adult beverages and a common wardrobe element. Back in October we had the Zombie Pub Crawl (Day 187). Then there's the Snuggie Pub Crawl, the Ugly Christmas Sweater Pub Crawl, and others.
This Saturday, another pub crawl hits St. Paul's Lowertown district starting at 5pm. SantaCon will be recognizable by the hoards of Santas, elves and reindeer mozying from pub to pub in pursuit of the frosty adult beverage and the fellowship of other beer-drinking Santas, elves and reindeer.
Catch live music at various stops and get drink specials if you're dressed in your Santa/elf/hoofed mammal getup. On the route: Barrio, Bulldog, Innuendo, Station 4, and The Blag Dog Cafe.
Get creative with your costume. Seen previously at SantaCon were Santasaurus Rex, Zombie Santa, Bad Santa, Santa Jesus, Single Ladies Santa, Grinch Santa…whatever your twisted mind can dream up, make it into a Christmas outfit and you'll win the admiration and respect of your fellow SantaCon-ers.
Leave the tiny tots at home, folks. This is for the big kids, 21+.
Toss back a few Candy Cane Martinis or some wine as well. There's no rule saying you have to drink beer! Christmas carols will abound and drinks will flow. But whatever your poison, you're sure to finish the evening with some rosy Santa cheeks!
For more information, visit the SantaCon homepage.