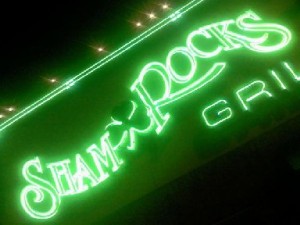 With the sad news that The Nook (Day 214: The Nook) burned down this morning, we thought it would be a fitting tribute to mention owners Ted Casper and Mike Runyon's other joint, Shamrock's.
With all the same great burgers, sandwiches and other pub foods, Shamrock's ranks among the top spots for burgers in the Twin Cities. In fact, USA Today has said that Shamrock's serves the best burger in Minnesota. And I don't know many who would argue.
November was Juicy Lucy month and here on 365, we had a spirited debate going regarding who serves the best Juicy Lucy in the Twin Cities. We held a contest, and although Matt's Bar (Day 10) came out on top among our readers, The Nook seemed to have a very loyal following, even if it was a bit smaller.
Shamrock's is located on West 7th at Randolph Avenue in St. Paul and is a great spot to hit before or after a Wild game at the Excel Center, a show at Roy Wilkins Auditorium, skating at Landmark Center (Wells Fargo WinterSkate, Day 228), or taking in some live music at one of the many clubs around Lowertown and Mears Park. It's also a perfect destination spot, with burgers that will make your mouth sing and some of the best crinkle cut sweet potato fries in the Western Hemisphere.
Open 11am to 2am daily, Shamrock's is the perfect place for late night dining. The kitchen does close earlier, but you can still get full menu pretty late.
Parking is available on the streets nearby.
For more information, visit www.crnook.net/shamrocks or call (651) 228-9925.