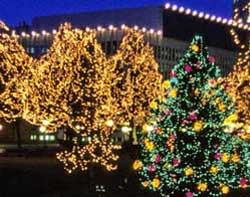 There's plenty of Holiday festivity and merriment to take in this Holiday season in the Twin Cities. The Holidays can be a busy time, but be sure you remember to take time to relax and enjoy the season a bit too.
A great way to take a break from the bustle of the season is to catch the Holiday Lights Tour. Maybe you don't get your Clark Griswold on during the Holidays, but luckily there are many in the 'Cities who MORE than make up for it. MetroConnections scouts it out and offers tours via toasty warm deluxe motor coach, so you can get snuggly with someone and enjoy the beautiful lights in the city, from quaint residential neighborhoods to bustling, glitzy downtowns. Your tour guide will provide fascinating commentary on Twin Cities traditions and the inside scoop on many of the decorations you'll see.
The tour is back by popular demand, and is expected to sell out fast. Get your reservations online now.
The Holiday Lights tour runs Saturdays, December 11th and December 18th, from 6 to 8:30pm each night. The tour departs from the North Dock of the Mall of America and costs $28 for adults, $26 for seniors, and $20 for kids 6 to 12.
For more information about this and other tours, visit www.metroconnections.com, or call (612) 333-8687.