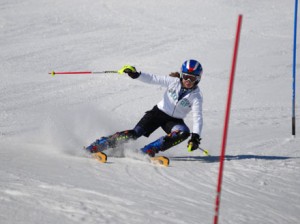 One of the disadvantages of living in a city is the lack of outdoor recreation available, especially in the winter time. But in the Twin Cities, we're truly fortunate. We have dozens of lakes within the metro area, lots of parks, stables that offer trail and sleigh rides, and even ski areas.
A mere 15 minutes or so from downtown Minneapolis, Hyland Ski & Snowboard Area is Bloomington's mecca for winter sports enthusiasts. It ain't the Rocky Mountains, but it does offer a surprising number of runs with variable difficulty levels, from training runs to beginner runs, several intermediate runs and even a couple of runs for the advanced skier.
Located within Hyland Lake Park Reserve, Hyland Ski & Snowboard Area (HSSA) is the place for downhill skiing and snowboarding in the metro area. This terrain park is full of progressive and innovative features and is known for some of the best snowmaking and grooming in the Midwest.
Haven't hit the slopes for quite some time? A little rusty? No problem. Lessons are available to brush up on those skills or if you're learning for the first time. Hours are Monday – Thursday from 10am to 9pm, Friday from 10am to 10pm, Saturday 9am to 10pm, and Sunday 9am to 9pm. Check out the hours and rates for more information on Holiday hours and lift ticket prices.
There are myriad exciting competitions and programs held at HSSA each winter as well. You'll be able to participate in ski jumping, team freestyle, ski challenges, racing, and lots more.
Contact HSSA for groups and events. Visit the HSSA website, or call (763) 694-7800 for more information.