Since winter is here for a while, coffee, tea, hot chocolate and other hot beverages are big right now. One of the things that keeps people away from the Twin Cities is the weather, but with such a variety of cool coffee shops, Twin Cities winters can be a lot more tolerable for those of us that choose to live here.
Coffee Buzz is a thoroughly modern coffee shop located in the Hoigaard Village shopping area in St. Louis Park. Every coffee house has its charm. Some are Victorian chic (Uncommon Grounds, Day 17), some are urban chic (Angry Cathfish Bicycles + Coffee, Day 40), some are themed, some are simple. Some are dingy, rustic, retro, etc.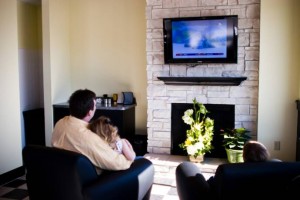 Coffee Buzz makes use of bright, modern, and high tech accents for a unique and comfortable place to plug into technology and connect with the world. Whatever your poison–if you're a blogger, Facebook user, Twitter fan, or social media junkie in general–this coffee house will provide a friendly and convenient venue for your activities. When you need a break, sink into a comfy chair and watch a game or catch up on your favorite show on one of their HDTVs.
For a taste of something different, try the Honey Bee Latte, a combination of espresso, hazelnut, honey and cinnamon, or the White Hot Cocoa, a mix of Ghirardelli white chocolate sauce & steamed milk, topped with whipped cream and white chocolate sauce.
Coffee Buzz is located at 5690 W. 36th Street in St. Louis Park and is open from 6am to 6pm Monday through Friday and 8am to 6pm on Saturdays. It's closed on Sundays.
In spite of all the tech conveniences, the family owned and operated Coffee Buzz is both neighborhood coffee shop and urban retreat. Stop by today and get your buzz on.
For more information, visit www.coffeebuzzmn.com.