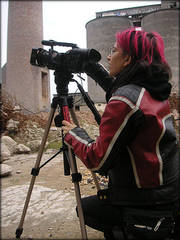 Looking at the weather forecast for this weekend, it looks like indoors may be the place to be. So what cool indoor things are happening this weekend?
Tonight, starting at 7pm and going late into the night, Minneapolis College of Art & Design (MCAD) is hosting the Minneapolis Underground Film Festival. It starts up again tomorrow morning and goes all day before wrapping up with the last show starting at 10:30pm. Then Sunday, the first show starts at 10am and the weekend winds down with the awards ceremony at 7:30pm.
This celebration of quality low-budget films offers the chance to check out movies that are often ignored.
The cost per film is $9, or you can buy a festival pass for $49. The festival pass does include a drink as well. That's obviously the better deal. So if you feel like braving the snow tonight, head over to MCAD's campus at 2501 Stevens Ave. in Minneapolis and check out some quality underground film. There are over 20 movies being shown over the weekend, so whatever you're looking for in low-budget cinema, you'll find something that catches your attention.
For more information, visit the festival website.