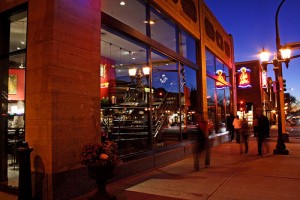 Looking for festive ways to get yourself into the Holiday spirit this weekend? Look no further than St. Paul's Grand Avenue.
Saturday from 8:30am until 5pm or so, The Grand Avenue Business Association presents Grand Meander, a day full of shopping, celebration, and fun taking you from one end of Grand Avenue to the other.
Beginning with Breakfast with Santa at Tavern on Grand (656 Grand Ave), and ending with the Community Tree Lighting Ceremony at Charlemagne Fine Jewelry (1262 Grand), Grand Meander takes you through the Grand Avenue Historic Shopping District with style. Hear carollers and musicians bring an air of festivity to the event as you shop and take in Firetruck Rides, Art Fairs, Trolley Rides, Soup Tastings at Grand Avenue restaurants, and lots of other cool things.
Many businesses will offer snacks and hot cider or other beverages while you shop, many will have free samples and specials to tempt you. With all of it's unique gift shops, specialty retailers, restaurants and hip salons, Grand Meander on Grand Avenue offers a bit of something for everyone. Get free Chips & Salsa from noon to 2pm at Chipotle, hot chocolate and dessert at the UPS Store, create a fun Holiday craft at Creative Kidstuff, get $5 chair massages at Grand Health Chiropractic from 11am to 3pm, and lots more.
The event is free and open to the public. As always, bring money for shopping. You never know when you'll find that elusive gift for the difficult-to-shop-for person on your list.
For more information, visit Grand Meander online and check out specials and freebies offered.