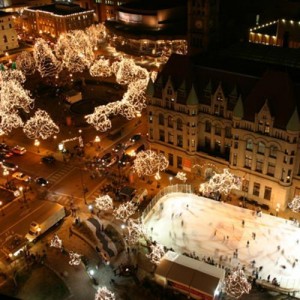 Yesterday we featured Minneapolis's indoor ice skating at The Depot. At $8 a pop for adults and $6 for the kids, that could be an expensive family outing, although, as we mentioned, maybe not quite as spendy as taking the family out to see a movie with popcorn and drinks.
Today we bring you an alternative that's absolutely free. Wells Fargo brings WinterSkate to St. Paul's Landmark Plaza, adjacent to Rice Park in downtown, at the corner of West 5th and Market Streets. This huge outdoor, artificially chilled rink doesn't depend on the weather. If it ain't cold enough, it ain't a problem.
The historic Landmark Center creates a beautiful backdrop for the outdoor rink, showcasing Saint Paul's charming European architecture and old-world ambiance. A fun time for the whole family WinterSkate offers folks of all ages to dig out those ice skates and decompress after a long day at the office or the mall.
The season opened on Saturday November 27th and runs through February 6th. Open skate times are generally Monday – Thursday 11am to 5pm, Friday and Saturday 11am to 10pm, and Sunday 11am to 9pm. There are broomball leagues, youth hockey, and corporate events from 5 to 10pm during the week as well.
Even if you don't own skates, there is skate rental available for a modest $2 per person, and even THAT is free if you flash your Wells Fargo credit card or check card. There is also a warming house, and hot chocolate and snacks on site to warm you when you need a break.
Stop by and check out free ice skating at Wells Fargo WinterSkate. For more information, visit www.wellsfargowinterskate.com.