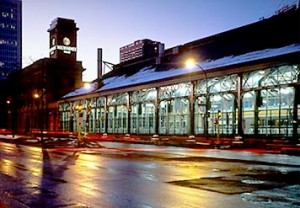 Old Man Winter is here and some of us are in denial. But there are those of us that embrace him with a hearty welcome. Those in the latter category are generally those that enjoy winter sports and activities.
Speaking of winter activities, The Depot in Minneapolis is a great place to flaunt your ice skating skills. Not only is it indoors (and therefore WARM), and a romantic date spot, but The Depot has also been touted by USA Today and MSNBC as one of the top ten best places to ice skate in the United States.
The Depot is a historic downtown train shed that now houses a modern ice skating facility with floor to ceiling glass walls showcasing views of the Minneapolis skyline. A great place to book a party, family outing, or group event, The Deopt offers a full catering menu and group party packages.
A fun activity for kids and adults of any age, The Depot also offers military & college student discounts on Thursdays. Regular admission is $8 for adults, $6 for seniors and juniors, and skate rental is $7, so a family could get by cheaper than a movie with snacks at the local multiplex. Check the online calendar for hours and days of operation.
The Depot is located at 225 Third Avenue South in Minneapolis. For more information, visit www.thedepotminneapolis.com.