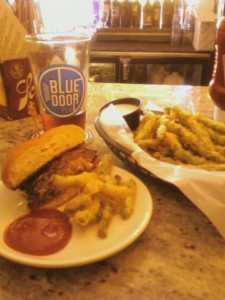 We recently featured a Battle of the Burgers on 365 to highlight the best Juicy Lucys in the Twin Cities. Of the three restaurants we featured–Matt's Bar, the 5-8 Club, and The Nook–it appears Matt's Bar was the winner based on our readers' responses.
However, when asked, a lot of you mentioned The Blue Door Pub as a place to get a great Juicy Blucy (their version of the Juicy Lucy).
The Blue Door Pub, located at 1811 Selby Avenue in St. Paul, offers no less than ten different Juicy Blucys on their menu. While they may not be quite as famous as Matt's Bar, they certainly have an amazing selection. The Blucy is their flagship burger and features blue cheese and finely chopped garlic stuffed into an Angus burger. Also quite popular is the Bacon Blucy in which melted cheddar and bacon are stuffed inside the burger.
Some that are a bit more on the creative side include The Frenchy which has Swiss Cheese and caramelized onion inside the burger, and the Bankok Blucy. This Asain sensation features mozzarella cheese soaked in coconut milk inside the burger and toppings include pickled carrots, cucumbers, red onions and ginger.
There's also a Hawaiian-style Blucy called the Luau, a Breakfast Blucy topped with a fried egg, a Cajun Blucy, and more.
And believe it or not, the place doesn't do burgers only. You can also get a number of different appetizers, specialties, salads and more. Check out the menu for all the tempting choices. There's even a kids' menu.
Hours are 11am to 1am daily, with food served until midnight each night. Enjoy a beer or glass of wine with your late night meal as well.
For more information, visit the Blue Door Pub online.