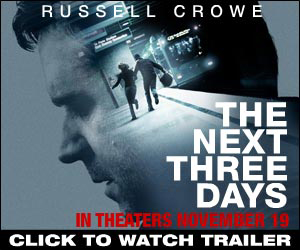 If you're gonna be out shopping on Black Friday, good luck battling those crowds. If you get tired of all the craziness while at Mall of America, stop by Theaters at Mall of America's Starbar on the fourth floor for a break from the madness.
Shoppers and movie-goers alike will enjoy an oasis of comfortable lounge seating from Lovesac while you're able to watch all your favorite games on the Starbar big screen or try out the latest video games from Gamestop, all the while enjoying free food from Crave. Also see The Next Three Days in the theater for free, no ticket required.
The Next Three Days tells the story of John Brennan, whose idyllic life is shattered when his wife is arrested for a murder she claims she didn't commit. When his efforts to prove her innocence fail, he hatches a plot to break her out of prison. Russell Crowe stars in this taut thriller.
The event is from noon to 4pm and you must be 21 or over to enter Starbar.
Take a break from Black Friday madness and head to Theatres at Mall of America's Starbar for some much needed rest and relaxation then enjoy The Next Three Days.