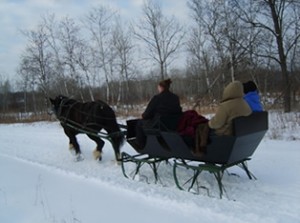 Old Man Winter is forecast to be making an appearance or two this week, dropping some of the cold white stuff on the Twin Cities. But that doesn't mean there's not fun to be had.
Just north and slightly west of Minneapolis, at 550 Bunker Lake Boulevard NW in the suburb of Andover, Bunker Park Stable offers a number of fun activities, including pony rides, trail riding, hay rides in the fall and sleigh rides during winter months.
Pony and trail rides are offered year round. Prices vary depending on the package, size of the group and activities included. Make sure you check the link for details.
It seems the transition from fall to winter didn't give us Twin Citians much time to adjust. Even though the fall hay rides are done, sleigh rides will be available soon, if enough snow stays on the ground. Even in the event that there isn't enough snow, Bunker Park Stable substitutes a flatbed hay wagon for the sleigh.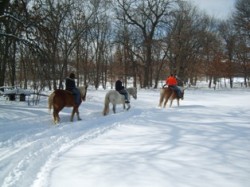 If weather and snowfall are on your side, lots of sleighs can be reserved. The stable offers a 2-4 person Antique Sleigh, a 10 person Red Bench Seat Sleigh, or one of two 25 person Flatbed Sleighs. A sleigh ride may be just the thing to get you into the holiday spirit this December.
Bunker Park Stable also offers riding lessons so you don't have to look like a rookie when you hit the trails on a horse.
Maybe you have a youngster who'd like to learn horse basics and how to ride like a pro. A number of camps are held throughout the year as well. Winter camps as well as spring and summer camps are offered to get kids accustomed to horses, stable rules, and of course, riding. Choose from one-day, two-day, three-day, and week-long camps and day camps.
There's many things to do regardless of the season. Get to Bunker Park Stable and unleash your inner Lone Ranger. Or just have a nice stroll on the trails. It's up to you.
For more information, visit www.bunkerparkstable.com.