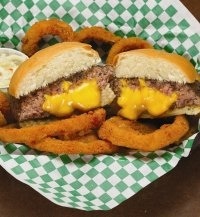 The battle continues for the finest Juicy Lucy in the Twin Cities. And since November is Juicy Lucy month, we'd like to suggest another source for the Juiciest Lucy yet, according to many.
Hot off the heels of the Juicy Lucy recipe contest held at the Champlin location, the 5-8 Club is our feature for today. Many believe this to be the original. There's even talk that Matt's Bar, our feature on Day 10 way back in April, can't be the original because they changed the spelling to Jucy Lucy, with no "i". Who knows for sure? We just know that these succulent, juicy burgers deserve all the mention we can give.
Through November, the 5-8 Club is offering a Thanksgiving Juicy Lucy. The Thanksgiving Juicy Lucy features molten American cheese, cranberries and green onions enveloped in a savory Turkey burger and topped off with turkey gravy. Profits from the sale of this special edition Juicy Lucy will go to directly benefit local community-oriented charities in the neighborhoods of each of the three 5-8 Club locations.
Get yourself in to the 5-8 Club soon to try this turkey delight. Locations are in Maplewood, Champlin, and Minneapolis. For more info on the Thanksgiving Lucy and the locations check out the 5-8 Club Facebook post.
Also visit the 5-8 Club website.
So, let us know…Matt's Bar or the 5-8 Club? Who's Lucy is the best?